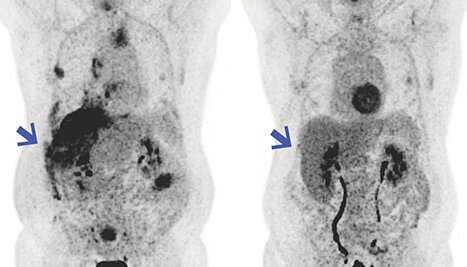 A drug that is made to boost the immune system response to mesothelioma, when combined with immunotherapy, has been found to be beneficial in a small clinical trial of 10 patients. The results appeared on July 1, 2020, in Science Translational Medicine. They suggest that the drug – LMB-100 – could improve the lifespan of some patients with advanced mesothelioma. More study is needed, but the results so far have been promising.
Drugs Developed to Attack Mesothelin on Surface of Cancer Cells
Mesothelioma is a rare and difficult to treat cancer that affects the thin membranes surrounding the lungs, abdominal organs, and the heart. To treat this aggressive cancer, some drugs have been made that create a bind to a protein on the surface of the cancer cells, known as mesothelin. The idea is to train the patient's immune system to ID the protein and attack the cancer cells.
The clinical study was led by Raffit Hassan, MD, Chief of the Thoracic and GI Malignancies Branch. He and his colleagues decided to study the mesothelin-targeting drug known as LMB-100. His team performed a phase I trial to understand the safety and efficacy of the drug. Ten of the clinical trial patients then received an immune checkpoint inhibitor – pembrolizumab or nivolumab – which helps to boost the ability of the immune system to attack cancer.
Hassan noted that in some patients, receiving pembrolizumab after LMB-100 provided greater efficacy than would have been from pembrolizumab alone. Four of the 10 patients responded well to the treatment, including one complete and three partial responses.
Because of these positive human trials, Qun Jiang, Ph.D., a scientist in Hassan's lab, performed additional studies in mice who were grafted with human mesotheliomas. These experiments showed similar results where tumor shrinkage was better in mice that received LBM-100 and pembrolizumab compared to test animals that only got one therapy.
Hassan notes that because only a small number of patients were involved, it is possible the patients just responded to the pembrolizumab and not the drug combination.
He added that to explore this therapy combination in greater detail, he is going to perform a larger trial. Hassan said the clinical outcomes from this clinical trial will determine whether LMB-100 with an immune checkpoint blockade is a good treatment strategy for mesothelin-positive mesothelioma tumors.
More Information About LMB-100
LMB-100 is a next-gen recombinant immunotoxin that features a humanized anti-mesothelin Fab that has been fused to a 24-kDa truncated Pseudomonas exotoxin (PE) A fragment with mutations that may suppress B and T cell epitopes to lower the immunity against the immunotoxin.
The PE is delivered into cancer cells with mesothelin after binding to the mesothelin. The toxin part reaches the cytosol, where it ADP (adenosine diphosphate)–ribosylates elongation factor 2, arrests protein synthesis. It also induces immunogenic cell death.
The way it kills cells differs from current chemotherapies or targeted agents that are used to treat various solid cancer tumors. The antitumor effectiveness of LMB -100 has been shown in several mesothelin tumor models, such as mesothelioma patient-derived xenograft models.
During the clinical trial of the drug, study scientists noted that some patients with mesothelioma that were treated with the immunotoxin who also received pembrolizumab had long-lasting tumor reductions.
More Clinical Trials for Mesothelioma Listed at Cancer.gov
There are many clinical trials underway testing other drug therapies to treat mesothelioma. If you have mesothelioma and are interested in participating in a clinical trial, please talk to your doctor.
Pembrolizumab with or without Anetumab Ravtansine in Treating Patients with Mesothelin-Positive Pleural Mesothelioma: This is a randomized phase I/II trial that studies the side effects and how well pembrolizumab with or without anetumab ravtasnsine work in the treatment of patients with mesothelin-positive pleural mesothelioma.
A Study of XmAb20717 in Subjects With Selected Advanced Solid Tumors: This is a Phase I, ascending dose-escalation study that defines an MTD/RD and regimen to describe tolerability and safety, and also to assess PK and immunogenicity.
Surgery, Chemotherapy, and Intensity Modulated Radiation Therapy in Treating Patients with Stage I-III Pleural Mesothelioma: This is a phase II trial that studies the side effects of chemotherapy, surgery, and intensity-modulated radiation therapy to treat patients with pleural mesothelioma in stages I, II, and III. Common drugs in chemotherapy, including pemetrexed, cisplatin, and carboplatin work in various ways to stop cancer. They either kill the cells, stop them from dividing or keep them from spreading. Radiation uses X-rays with high energy to kill tumor cells.
References