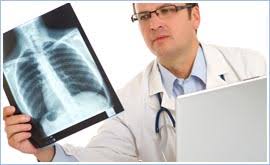 How do doctors check for mesothelioma? There are many renowned medical professionals who have dedicated their careers to treating mesothelioma and related asbestos diseases. Below we've assembled profiles of some of the most noteworthy mesothelioma physicians and medical professionals working in the United States today.
SEE ALSO: How and Where to Get Tested for Mesothelioma
You and your medical team should determine which type of cancer you have, and then do research to find the best doctors and treatment options available in your part of the country. This list is our contribution based on background, noteworthy accomplishments, and specialties.
Abraham Lebenthal, M.D.
Dr. Lebenthal is renowned as an expert in mesothelioma surgery. He trained under the famous Dr. David Sugarbaker in general thoracic surgery at Brigham and Women's hospital. Lebenthal is a veteran, and he works as a surgeon on mesothelioma cases at West Roxbury VA Hospital, which is affiliated with Harvard and Boston universities.
Background: Spend four years of clinical fellowship at Brigham and Women's. There he developed skill in minimally invasive surgery for lung cancers
Noteworthy: Skilled in video-assisted thoracoscopic surgery; Board Certified in Surgery; Board Certified in Thoracic Surgery
Specialties: Diseases of the gastroesophageal junction; esophageal cancer; lung cancer; mesothelioma
Anne Tsao, M.D.
Dr. Tsao is the Director of the Mesothelioma Program at the University of Texas MD Anderson Cancer Center. She always encourages her patients with rare asbestos-related cancer that there is hope for recovery. (MDAnderson.org)
Completed her fellowship at the MD Anderson campus and was hired. She is part of a leading mesothelioma focus group that works with surgeons, research nurses, radiologists and lung specialists. Each doctor on the team matches a cancer patient with an appropriate clinical trial.
Noteworthy: Tsao's expertise on mesothelioma treatments makes her in strong demand for public speaking and interviews. Her medical opinions have been cited in many medical journals, such as the Journal of Thoracic Oncology and International Journal of Cancer Prevention.
Supervised Phase I trial that resulted in tumor shrinkage after a month of treatment with the mesothelioma drug dasatinib.
Brian Loggie, M.D.
Dr. Loggie is Chief, Division of Surgical Oncology. Early in his career, Loggie developed an innovative cancer treatment that paired surgery with heated chemotherapy drugs. The benefits of this dual treatment were immediate. Heat made the chemo more effective in killing some cancer cells. Now the procedure is used widely across the country. (ChiHealth.com)
Earned his medical degree from McGill University in Montreal. Post-graduate training involved an internship at the Department of Surgery at Montreal General Hospital, where he also did his residency.
Noteworthy: Dr. Loggie specializes in peritoneal mesothelioma, which represents only 20% of all cases. It develops in the abdominal cavity lining and is related to ingestion or inhalation of asbestos.
Loggie lead a team of physicians to Haiti after the earthquake in 2010. His team was there for 11 days and worked 14 hour shifts of trauma surgery. They performed orthopedic surgeries, treated open fractures and amputated limbs to save lives.
Daniel Sterman, M.D.
Dr. Sterman is Director of the Multidisciplinary Pulmonary Oncology Program. In his work, Sterman has noticed there is a significant gap between the patient's bedside and the laboratory bench. Medical research does not always reliably translate into patient health improvements. Sterman tries to bridge the gap between the bench results and patient results. (NYUlangone.org)
Sterman graduated from Cornell University Medical College in 1989. He joined New York University Langone Medical Center in 2015 as director of the Multidisciplinary Pulmonary Oncology Program. He worked for 20 years at the Abramson Cancer Center at the University of Pennsylvania.
Noteworthy: Received the Clinical Associate Physician Award from NIH, and he has delivered several lectures, including a major address at the 2009 International Symposium on Malignant Mesothelioma.
Sterman takes a special interest in genetic immunotherapy, an alternative treatment to traditional cancer treatments.
Robert Cameron, M.D.
Dr. Cameron is a thoracic surgeon who developed a surgery for pleural mesothelioma that can spare a lung, but also extends survival and improves quality of life by preserving the organ. Cameron is the director of Thoracic Surgery at the Ronald Reagan UCLA Medical Center, and also is medical adviser for the Pacific Meso Center. He lobbies against his physician colleagues who practice extrapleural pneumonectomy, which is the radical remove of the lung. (MyChestSurgeon.com)
Cameron also is scientific advisor for the Pacific Heart Lung & Blood Institute and director of the Pacific Mesothelioma Center.
Noteworthy: Cameron believes the lung sparing approach has a lower debilitating effect on each patient, and combined with other cancer therapies, has shown to be as effective in treating the cancer. He believes that the EPP treatment should be placed in an archive of archaic surgeries no longer performed.
Cameron's research on malignant pleural mesothelioma has been published in Annals of Thoracic Surgery, Journal of Cardiovascular Surgery and the Annals of Surgical Oncology.
David Bartlett, M.D.
Dr. Bartlett is the chief of the Division of Surgical Oncology at the UMPC Cancer Centers. He has gained renown for improving ways of administering chemotherapy for patients with peritoneal mesothelioma. Bartlett also contributed to developing of regional perfusion. This is a surgical procedure that puts chemotherapy drugs into the peritoneal cavity directly. Dr. Bartlett believes it is an excellent option for patients who do not succeed with traditional chemotherapy. (UPMC.com)
Bartlett is also Director, David. C. Kock Regional Perfusion Cancer Therapy Center
Bartlett's research in regional therapeutics and gene therapy has been published in several medical journals, such as the Annals of Surgical Oncology and the Journal of Gastrointestinal Surgery. His advice was sought out by 'Grey's Anatomy' producers for an episode where they wanted to accurately show a surgical procedure that he specializes in.
Completed his medical degree at the University of Texas and his residency at the University of Pennsylvania.
David Jablons, M.D.
Dr. Jablons is a renowned lung expert, and is Thoracic Oncology Program Leader; Ada Distinguished Professor of Thoracic Oncology and Professor and Chief of Thoracic Surgery. (UCSF.edu)
Noteworthy: Lab projects under Dr. Jablon have included molecular pathways, genetic therapy and stem cells. One of these lab projects, which was an investigation of a pathways used to treat mesothelioma, received a grant from NIH. He and his lab team have also developed a thoracic tissue bank that is the biggest in the world. More than 1000 specimens of tumors have been collected and have made major biological research possible.
Jablon graduated from Albany Medical College at Union University, where he received a training opportunity to study clinical science at the National Cancer Institute.
Eric Vallieres, M.D.
Dr. Vallieres is a thoracic surgeon and surgical director of the Lung Cancer Program at the Swedish Cancer Institute in Seattle. (CTSnet.org)
Noteworthy: Vallieres uses what is known as a trimodality approach when treating patients with mesothelioma. This combines surgery, chemotherapy and radiation therapy. Many of his patients have enjoyed longer life expectancy with trimodality treatments. He stresses finding the exact right treatment plan for every patient.
Vallieres' publications have been in the American Journal of Surgery and the Journal of Clinical Oncology.
Vallieres has served as surgical director at the Swedish Cancer Institute since 2004.
Joseph Friedberg, M.D.
Dr. Friedberg is Division Head of Thoracic Surgery at the University of Maryland School of Medicine. He has found that patients who had lung-sparing surgery combined with photodynamic therapy showed better survival rates than patients who went for having the entire lung removed. (Umaryland.edu)
Noteworthy: Friedberg was formerly the chief of thoracic surgery and co-director of the Penn Mesothelioma and Pleural diseases Program at the University of Pennsylvania Medical Center.
To develop new treatments for advanced cancers and mesothelioma, Friedberg has led several clinical trials, with one of them investigating the potential of a lung cancer vaccine.
Friedberg received his MD from Harvard Medical School and received his thoracic training at Brigham and Women's Hospital.
Marcelo DaSilva, M.D.
Dr. Dasilva served as chief of thoracic surgery at Loyola University Medical Center before he went back to Brigham and Women's Hospital in Massachusetts. In the past, he was co-director of the Lung Cancer Program at Loyola's Cardinal Bernardin Cancer Center, and associate professor of surgery at Stritch School of Medicine in Chicago. (Kentri.org)
Noteworthy: Before he came to Loyola in 2013, he worked at Brigham and Women's for five years. He developed his surgical skills under Dr. David Sugarbaker. He developed a highly effective heated chemotherapy techniques to treat pleural mesothelioma. Patients who chose this method typically improve survival over those who choose one or the other. The heated chemotherapy approach improves survival by three or four years.
He completed his residency in general surgery at Sound Shore Medical Center in New York.
Raffit Hassan, M.D.
Dr. Hassan is a medical oncologist and senior investigator at the National Cancer Institute, with a primary focus on mesothelioma. Hassan currently is working on five cancer trials involving mesothelioma, and still is working toward more effective treatments of this terminal disease that has frustrated much of the medical community for years. (Cancer.gov)
Notable: Dr. Hassan has worked extensively with tumor vaccines and new immunotherapy agents. These are novel therapies that he hope will bring the community closer to finding a cure.
His interest in mesothelioma started when he did a fellowship at NCI. He left in 1997 to join the faculty at the University of Oklahoma before returning to NCI in 2002.
Hassan published 'Chemotherapy and Targeted Therapies for Unresectable Malignant Mesothelioma."
Valerie Rusch, M.D.
Dr. Rusch is Thoracic Surgeon, Vice Chair for Clinical Research, Department of Surgery, Miner Family Chair in Intrathoracic Cancers. She specializes in cancers of the lung, airways, chest wall, and pleura (malignant pleural mesothelioma).
Noteworthy: 25 years of experience as a thoracic surgeon and is among the first women to be board certified in the specialty in the US.
Clinical expertise is in lung cancer, malignant pleural mesothelioma, mediastinal tumors, video-assisted and minimally invasive thoracic surgery and pulmonary and upper gastrointestinal endoscopy.
Received her MD at Columbia University, with a residency at the University of Washington (org)
The above medical professionals are some of the best doctors in the treatment and research of mesothelioma and related cancers today. Talk to your physician about which treatment options and specialists may be best for your specific case.
References
Abraham Lebenthal, MD. (n.d.). Retrieved from https://providers.steward.org/ma/brockton/Abraham-Lebenthal-1-pearl-street
Anne Tsao, MD. (n.d.). Retrieved from https://faculty.mdanderson.org/profiles/anne_tsao.html
Brian Loggie, MD. (n.d.). Retrieved from https://www.chihealth.com/en/find-a-provider/provider-details.physician.a0dfc52c-8df3-4597-a5f8-ac3c03e6d05e.html
Daniel Sterman, MD. (n.d.). Retrieved from https://nyulangone.org/doctors/1851325922/daniel-h-sterman
Robert Cameron, MD. (n.d.). Retrieved from https://www.mychestsurgeon.com/
David Bartlett, MD. (n.d.). Retrieved from http://hillman.upmc.com/find/providers/david-bartlett-6312
David Jablons, MD. (n.d.). Retrieved from https://profiles.ucsf.edu/david.jablons
Eric Vallieres, M.D. (n.d.). Retrieved from https://www.ctsnet.org/home/evallieres
Joseph S. Friedberg MD. (n.d.). Retrieved from http://www.medschool.umaryland.edu/profiles/Friedberg-Joseph/
Marcelo DaSilva, MD. (n.d.). Retrieved from http://www.kentri.org/Physicians/marcelo-dasilva.cfm
Raffit Hassan, MD. (n.d.). Retrieved from https://ccr.cancer.gov/thoracic-and-gi-malignancies-branch/raffit-hassan
Valerie Rusch, MD. (n.d.). Retrieved from https://www.mskcc.org/cancer-care/doctors/valerie-rusch