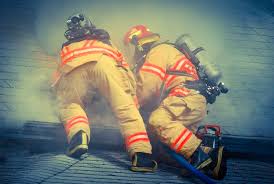 After revelations that the city of San Diego had put them at higher risk for mesothelioma and other diseases related to asbestos exposure, hundreds of firefighters and other employees in the department filed a negligence claim on July 2, holding the city responsible for possible medical damages.
This issue came to light after an investigation indicated the city knew that its Fire Training Academy had high contamination from asbestos. Still, they allowed first responders to put themselves at higher health risk without offering any warnings. (mesothelioma.net)
City Was Aware of Asbestos Exposure But Said Nothing
A representative for the affected group of firefighters spoke about the many toxic materials the San Diego firefighters worked with and the higher risk of mesothelioma and related diseases. He noted the city put workers in harm's way, knowing full well there was possible exposure to asbestos in the Fire Training Academy.
The lawsuit notes the use of an office building downtown at 1010 Second Avenue, which they note the city knew was full of asbestos. The suit also states that asbestos exposure got worse as renovations at the building continued. Employees started to complain they felt wick, and no efforts were made to offer protection or to move them to another building. The complaint added that shortly after construction started, city employees experienced a variety of air quality issues in the construction of the building that included a lot of dust in work areas.
Exposure to Asbestos Caused Major Health Concerns for City Workers
Asbestos is a dangerous carcinogen and is most commonly associated with mesothelioma, asbestosis, and asbestos-related cancer of the lungs. Asbestos exposure also can cause COPD and other serious lung problems. Asbestos was widely used in construction because of its ability to resist heat and fire. It also was widely available and very inexpensive. It was used across the country in all types of construction in the 20th century until it became known that it was dangerous to human health.
SEE ALSO: San Diego Mesothelioma Lawsuits & Lawyers
The San Diego lawsuit claims that as the renovations were going on around them, employees started to inhale toxic materials and experienced negative health consequences, leading to a serious and reasonable fear of cancer and other serious health conditions. Despite these events, the city did not move employees to another location and did not even attempt to reveal what was causing employees so much discomfort. Further, the mesothelioma lawsuit claims the city put budgetary worries ahead of protecting worker safety and health. They were not moved until substantial amounts of asbestos were detected. They finally moved the firefighters to another location, but that one also was contaminated with asbestos.
Should You File a Mesothelioma Lawsuit?
Were you or a loved one diagnosed with mesothelioma after being exposed at work to asbestos? You may be thinking only of taking care of your health. But if a company exposed you to asbestos on the job, you would be well served to speak to a mesothelioma lawsuit attorney in California today.
A lawsuit for exposure to asbestos and getting mesothelioma from it can really improve your financial health as you are confronted with medical bills and lost earnings, not to mentioning major pain and suffering. But to file a successful personal injury lawsuit for mesothelioma is complex, and you need to have the right attorney representing you.
How to File Your Mesothelioma Lawsuit
The first step to file your mesothelioma lawsuit is choosing a highly experienced mesothelioma attorney. Keep in mind that litigation regarding exposure to asbestos is complex. For your asbestos cancer claim to be successful, your work history must be carefully analyzed to determine when and how you were exposed to asbestos on the job. Then, your attorney will help you to find the best jurisdiction in which to file the mesothelioma lawsuit and will ensure you are compliance with all legal filing requirements there.
How Long Will the Mesothelioma Lawsuit Take?
People who are suffering from mesothelioma usually have serious financial problems, so the faster they can get paid, the better for them. How long the legal process takes will largely depend on your health. If you are in very poor health, the litigation process can be accelerated. But if your health is better, the entire process could take months or years.
Whatever the situation, it is a sure bet the defendant and its corporate lawyers will try to drag out the legal process. But your skilled mesothelioma attorney will try to resolve your mesothelioma lawsuit as quickly as possible.
Is Travel Necessary?
The ideal location to file your lawsuit will depend on multiple factors, and this affects how low the lawsuit takes. Wherever you decide to file, it usually is not necessary to travel. Your mesothelioma attorney can mostly handle the legal process on their own and travel to you when needed. Remember to talk to a California mesothelioma attorney as soon as possible if you were diagnosed with mesothelioma. The sooner you start the litigation process, the faster you can get paid.
References
Fearing Mesothelioma and Other Illnesses, San Diego Firefighters Sue. (2019). Retrieved from https://mesothelioma.net/mesothelioma-news/fearing-mesothelioma-and-other-illnesses-san-diego-firefighters-sue/